AR Group Corporate Structure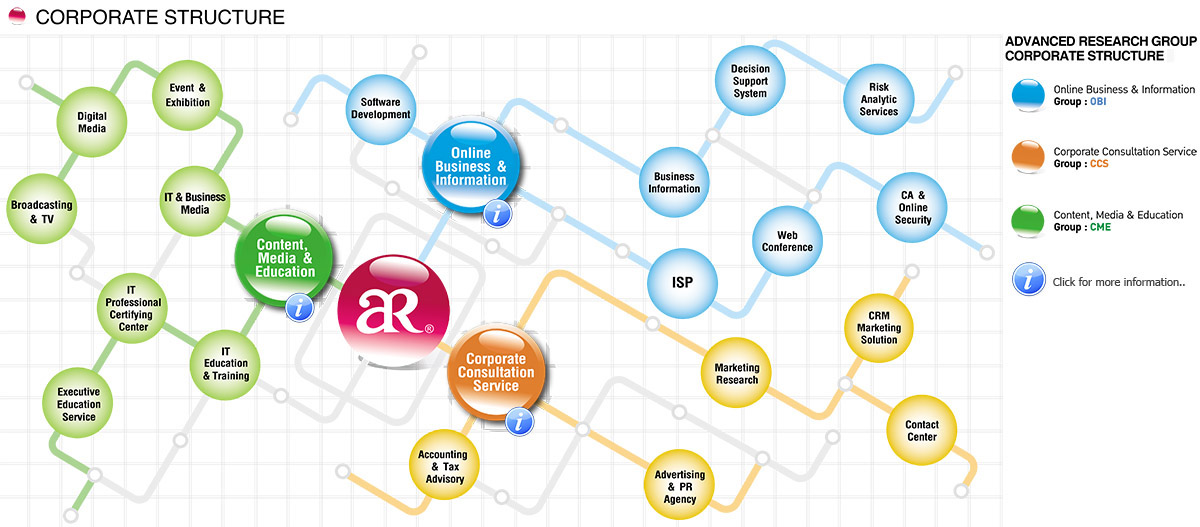 Contents, Media & Education
Contents & Media : focus on creating and providing advertising services and contents, particularly relating to business, marketing, ICT, consumer electronics and lifestyle via various media such as print, radio, television, online and digital media. In addition, AR is also specialized in organizing conference, event, seminar and trade show.
---
Education : focus on providing training, learning opportunity and professional development for individuals and organizations in the area of IT, management and other skills vital to today's competitive environment, with reliable materials and testing schemes.
Online Business & Information
Online Business : focus on services and infrastructure supporting effective online activities and transactions covering the development of software that helps with analytical & presentation of data, content management and other web-based applications , Internet Service Provider providing solution on internet/intranet connections.
---
Information : focus on developing valued business database, information, knowledge and tools to support decision making and to assist organizations in effectively managing risks and opportunities.
Corporate Consultation Services
CRM Marketing consultation and Services : focus on providing an integrated solution on customer relationship and marketing management covering customer research, market and industry research utilizing modern techniques and information technology , customer relationship/experience management, CRM/CEM consultation and service, customer base management service and consultation, customer analysis and segmentation, Contact Center Outsourcing service.
---
Advertising and PR : focus on providing integrated marketing communication covering media planning, advertising creative and art work, logo & packaging designing, marketing event organizing, corporate communication & PR strategist and implementation.
---
Accounting, Service and Advisory : focus on providing accounting and tax services, advisory and training, working system set up for organizations and other corporate services.